Case Study
Not Ready to Buy Yet
Our clients contacted us in May 2023 with a month-long stay on the Costa del Sol already organised for July. When I asked what they hoped to achieve during their visit they said it was to get to know the area well enough to pick the location for an eventual purchase sometime in the future. They had had a couple of family holidays In Spain but felt they didn't know any area well enough to make an informed decision at this stage and certainly weren't planning a purchase during the month. However, they did want to view a few houses in different locations to get an understanding of what they could aim for once they were ready to buy.
the brief
A house, detached or semi

Min 3 beds & 3 full baths

Walking distance to amenities, e.g., shops, restaurants and medical facilities

Close to golf & beach

No major renovations

No firm ideas about locations
The challenges
Clients without a clear idea of where they want to be need lots of information from us to help them compare and contrast various locations. From our initial Zoom meetings I identified two key issues that would influence their search. Firstly, any property would get a lot of use in winter as, ultimately, this property would be their full-time retirement home. In the meantime, it would be a winter retreat for parents of our clients and a holiday home for them in school holidays. While summer is wonderful everywhere on Spain's Mediterranean coasts, winter temperatures vary a lot, even on the southern coast of Andalucía. This meant my appraisals focused on the two clearly defined 'micro-climate' zones. And secondly, it needed to suit three generations; our clients, their 10 year old child and parents in their 70s who would not be driving in Spain. Hence the requirement to be walking distance to as many amenities as possible, including medical facilities.  
Based on our conversations I prepared appraisals for the two areas I felt were the best match for their criteria, one of which was rejected in advance of their July visit. While we all thought it would suit the grown-ups very well there were doubts that it would be right for the youngest member of the family. The area our clients chose to focus on was the 45km stretch of coast between Estepona to the west of Marbella and Elviria to the east. They wanted a bit more than the amenities available in a typical commercial centre so that meant I would be trying to locate properties within walking distance of the towns and avoiding the ribbon developments between the towns. In the appraisal of this area I had suggested specific urbanisations to look at. I also raised the the importance of orientation, given the amount of time the property would be used in winter. So, I only considered properties that were south and/or south west facing and would not be recommending any facing east. Makes a big difference when the sun goes low in the sky.
In Estepona I was hoping to find a property or two in Seghers, a development on the western edge of town and although it's on a bit of a hill the walk down to a lovely beach takes about ten minutes and then it's a flat 1km into the town centre. Although it wasn't necessary to be beachside I thought there was a chance of finding something in the San Pedro beach area, most likely semi-detached rather than detached. I was confident that I would be able to locate one or two properties in Guadalmina just to the west of San Pedro itself. From the right part of Guadalmina Alta it is an easy 1km walk on the flat right into the town centre and just over 1km down to the beach. And most houses in Guadalmina Alta are no more than ten minutes walk to the commercial centre which, in my opinion, is quite the best anywhere; a great variety of shops, tapas bars, restaurants, coffee shops, bakeries, doctors, dentists, a butcher, pharmacy, a real meeting place for local residents.
In the area behind Puerto Banús, I focused on the lower part of Nueva Andalucía, specifically on the west side of Las Brisas Golf. From here it is possible to walk to everything that's needed for day-to-day living, specifically in the Avenida del Prado and then on up to Centro Plaza and Puerto Banús itself, all within about 20 minutes.
In the event, I wasn't able to find a house in Seghers in Estepona. I did visit a property in a wonderful position with stunning views but it needed a total renovation so rejected it. However, I did get lucky in Guadalmina Alta with two detached houses meeting all the criteria and, in my view, both well under market value. I viewed a good house in Nueva Andalucía and a semi-detached property half way between the beach and San Pedro town. I felt at this stage of their search when they were really just interested in identifying the right location these four to view would give them some great ideas and their feedback would help me later on once they'd decided where they wanted to be.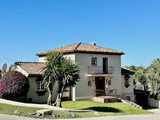 For the first two weeks of our clients' stay they were 'working from abroad' so viewings were done at weekends and they checked out lots of places, the beaches, things to do, where to eat etc., on their own in the evenings. It soon became clear that they were very keen on Guadalmina. It just had the right mix of peace and quiet with lots of amenities close by and all within walking distance. They loved San Pedro but rejected the the beachside property because it was on the main avenue down to the beach and there was too much traffic for them. However, the San Pedro boulevard is only 600 metres from Guadalmina, an easy walk on the flat so they felt it was just as good.
As their holiday proper started, in spite of the fact they had been quite clear at the outset that they were not going to buy a property on this trip, they requested a second viewing of one of the houses in Guadalmina Alta which ticked every box on the list of criteria and more. Not only was it south facing it also had a sea view from the first floor. As they had seen the house in the morning first time around I suggested a late afternoon/early evening appointment - I always recommend viewing a property at different times of the day. This visit was followed up by another one, this time with an interior designer to talk about a few changes they had in mind, then the house was surveyed and got a clean bill of health, no problems. Negotiations started and by the time they left we had agreed a small reduction, even though the house was already well under current market value, lawyers were instructed and completion set for a few weeks later.  And although the house was in excellent order and nothing needed doing they plan to update the bathrooms, make an open plan kitchen and improve the basement, which will take the house to a whole new level.
I think what helped them accelerate their plans and move forward with a purchase when they saw 'the one' was the amount of detailed information about locations and environments they had been given right at the outset. This helped them find their way around and make sense of what they were seeing as they knew what to look out for, giving them the confidence to go for it. I was a little surprised and I'm sure they were very surprised by the outcome.
I wrote about how much our area appraisals help our clients when they are starting out on the search process in a recent blog here.
© 2022 The Property Finders, International Property Search & Acquisition Services. All intellectual property in the design, images and text of this website are and will remain the property of The Property Finders. Any infringement of our rights will be pursued vigorously.
GDPR 2018 - We guarantee the personal data entered in the contact form will only be used for the purpose of replying to your enquiry and will not be shared with any other company, service or provider