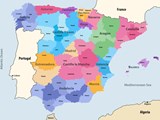 "So no boom at all, just post-pandemic catch up and normal levels of new annual demand."
As statistics are released this year making 2023 comparisons with the same month or quarter of 2022 I think we're going to get a lot of talk about the 'boom' in overseas buyers in Spain being over. In fact, I've already seen one commentator make exactly that comment.  Now, it's true that 2021 and 2022 showed all-time record numbers of overseas buyers but record numbers aren't the same thing as a 'boom' at least not when a pandemic shut down international travel across the globe for 18 months for most of us, and even longer in some cases. I was working with one client from Singapore who wasn't allowed out until November of 2021 and then only if the entry point in Spain was Barcelona. I'm not sure what that restriction was about as the first thing he did was jump on a connecting flight to Málaga but I guess it made sense to someone.
I've now had time to pick apart the recently released statistics for the full year 2022 and my analysis suggests there has been no boom in the Spanish property market in respect of overseas buyers. All that happened was that in the 2nd half of 2021 and the full year 2022 the people who couldn't buy during the lockdown periods in 2020 and 2021 because they couldn't actually get to Spain to do the deal all jumped on planes as soon as they were allowed and went property hunting. That's not a boom, that's post-pandemic catch up and, as far as I can see, the numbers are more or less the same as they would have been if the pandemic had never happened. In my view, it makes no sense to take a short term view after the disruption of the Covid years, A longer view is what's needed 
The market had been in growth for several years before the pandemic. The overseas market grew every year without interruption from 2013 before 2017 became the first year in which the 100,000 barrier was broken. It grew again in 2018 before falling back slightly in 2019 but the yearly average for those three years was over 102,000 overseas buyers. After a strong start to Q1 of 2020 the rest of the year can be ignored. Notaries closed so no deals in the pipeline could be completed until they reopened. No new deals could be started as Spain's international borders were closed. Even travel between autonomous regions and municipalities was either banned or strictly controlled. 
As a result, at the end of 2020 there had been about 25,000 fewer overseas buyers than in each of the 3 previous years and the 1st half of 2021 figure was about 5,000 down on the 3 previous 1st halves, meaning about 30,000 overseas buyers went missing during that time. What nobody knew was if those missing buyers were going to reappear when travel restrictions were lifted.  In addition, although new enquiries ran way ahead of normal throughout lockdowns there was no way of knowing if any of those would translate into purchasers post-pandemic. They might just have been browsing for something to do when very little else was allowed. I thought the market might slowly get back to something approaching normal during 2022, I certainly didn't expect what actually happened.
In the event, the overseas sector of Spain's property market exploded back into action in the 2nd half of 2021 and then just kept going throughout 2022. It did feel a bit like a boom but really it wasn't, it was just so many people turning up more or less at the same time and chasing the same inventory. Properties were disappearing just days after being listed. My client from Singapore bought a house that didn't even make it onto the market, because I got him in the front door  before it was listed with local agents. I've already mentioned that around 102,000 foreigners per year had become the norm in the 3 years before the pandemic, 2017 - 2019. If we assume that had continued through the years covering the pandemic period, i.e., 2020 - 2021 plus 2022, we could have expected around 632,000 overseas purchasers in those 6 years, allowing for just 2% growth in annual demand. The latest statistics show that the actual numbers of international buyers in Spain between 2017 and 2022 was 638,927. In other words, roughly 1,000 more each year over a 6 year period.  Looks about normal to me.
So no boom at all, just post-pandemic catch up and normal levels of new annual demand. What is unfortunate is that the rush of buyers in a short space of time has aggravated the lack of supply which was already an issue before the pandemic. Hopefully, a slower 2023, with overseas buyer numbers falling back to normal levels will help get the supply/demand ratio more in sync. In my view, it won't be until we get into 2024 that annual comparisons will mean anything. Comparing 2023 with either 2021 or 2022 is pointless, they were such odd years. And making statements that the 'boom' is over are just silly. There was no boom.
For more on the 2022 figures see my blog here.
© 2022 The Property Finders, International Property Search & Acquisition Services. All intellectual property in the design, images and text of this website are and will remain the property of The Property Finders. Any infringement of our rights will be pursued vigorously.
GDPR 2018 - We guarantee the personal data entered in the contact form will only be used for the purpose of replying to your enquiry and will not be shared with any other company, service or provider