Overseas tourists in Spain - 2022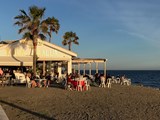 "It's good to see that there's been something of a rebound, not quite to pre-Covid levels but heading in the right direction."
Pre-Covid, Spain's tourism industry was continuing its seemingly unstoppable upward trajectory. The 2019 total was an all-time record of overseas visitors of 83.5m, making Spain, once again, the 2nd most-visited country in the world.  Only France has more.Tourism contributed about 14.5% to Spain's GDP in 2019 although in some regions it was much higher than the national average.  Inevitably, Mediterranean regions and the islands depend even more on a healthy tourism sector. For example, the 45% of GDP generated by tourism in the Balearics makes it the most dependent, and vulnerable, region, followed by the Canary Islands, Andalucía, Murcia, the Comunidad Valenciana and Cataluña.
It's not worth even mentioning 2021 tourism totals as travel restrictions were still in place for many until the 2nd half of the year. However, there are links between tourist numbers and the property market so the 2022 tourism figures are important. Firstly, there's the rental link. Official figures show that approximately 35% of Spain's foreign visitors do not stay in hotels. Obviously, some will have their own homes, or stay with family and friends, but that leaves a serious number of people renting privately. In addition, many domestic tourists from within Spain also rent privately.  And, secondly. property buyers in Spain have usually been tourists for years before they decide to purchase. 
So, it's good to see that there's been something of a rebound in overseas tourism numbers, not quite to pre-Covid levels but heading in the right direction.  The final total for 2022 was 71.6m overseas visitors which, when compared with the 83.5m in 2019, is 16% lower than that record-breaking year. However, the real damage was done in the 1st quarter of the year when there were still some travel restrictions and mandatory health checks deterring others even once travel was allowed. Between January and March 2022, visitor numbers were down 46.4% when compared with 2019. However, by the high-season months of July and August the deficit was down to 11.7% and the 4th quarter result was even better, only 6.4% off the 2019 mark.
Not all regions performed the same. For example, the Balearics recovered almost to pre-pandemic levels, only 3.5% down on 2019 while Cataluña was 23.6% behind it's 2019 figure.  Andalucía was right on the national figure, 16% lower than in 2019.
As ever, the British were by far the most numerous of Spain's tourists in 2022, with over 15.1m, way ahead of the French, in 2nd place with 10.1m. Nevertheless, the British total was about 19% lower than in 2019. However, in terms of tourist market share the British made up 21% of all Spain's tourists, exactly the same as in 2019.
Another encouraging statistic is that although the overall numbers are still below pre-pandemic levels, those overseas tourists that did come in 2022 spent more.The average spend per tourist was up 10.5% compared with 2019.  No doubt, higher prices were a factor but the statistics also showed that the average length of stay was longer. Another factor might be that Spain is making more effort to widen the market, away from the traditional sun 'n sand sector. Cultural and sports tourists typically spend more. For example, golfing tourists in Andalucía contribute more than €1b to the region's economy and spend twice as much per day as the average summer visitor.
As a result of these visitor numbers, rental yields make letting a property in Spain an interesting option. And not just for the buy-to-let investor because although not all foreign owners are part-time landlords many are. They look for rental income to cover essential maintenance and running costs and taxes. Obviously there a lot of variables but the best gross yields can be as high as 10% and sometimes even higher for a large, top quality detached house in a prime location. Apartments and townhouses near the beach can return 6% - 8% gross, assuming a luxury interior.  Typically, a quality property in a prime location will generate a higher yield in the short-term holiday market than the same property let long-term, in the region of 3% - 5% better.  
Of course, there are always exceptions to the rule and growing demand for long-term rentals at the top end of the market can produce a gross yield similar to the short term yield. One of The Property Finders clients is seeing a 2019 purchase generating a gross yield of 8% for a one-year let. Just as the highest activity levels are at the top end of the property market so it is in the rental sector. Properties priced at €10,000 - €20,000 and up per week had no trouble finding takers in 2022 and high season weeks were fully occupied. If the number of international tourists coming to Spain in 2023 continues to recover to pre-pandemic levels the property market will also benefit.
© 2022 The Property Finders, International Property Search & Acquisition Services. All intellectual property in the design, images and text of this website are and will remain the property of The Property Finders. Any infringement of our rights will be pursued vigorously.
GDPR 2018 - We guarantee the personal data entered in the contact form will only be used for the purpose of replying to your enquiry and will not be shared with any other company, service or provider